Friday, October 10th, 2014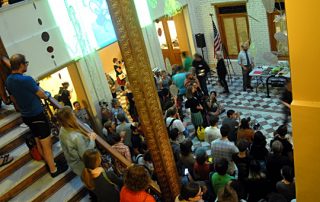 People wait for awards to
be presented to workplaces with
the most dedicated bike commuters.
(Photos: M.Andersen/BikePortland)
Well over a hundred biking fans packed City Hall's courtyard with their vehicles and stepped inside for beer and pizza Thursday night to celebrate the end of the annual Bike Commute Challenge.
The event run by the Bicycle Transportation Alliance drew 10,350 participants this year from 1,190 workplaces in a friendly competition that saw the most dedicated commuters logging more than 1,000 miles during September. In all, participants logged 1,212,271 miles of bike commuting this year.
"At the same time as you saved money on gas, you saved our communities money on road maintenance," BTA Deputy Director Steph Noll said.