Tuesday, November 25th, 2014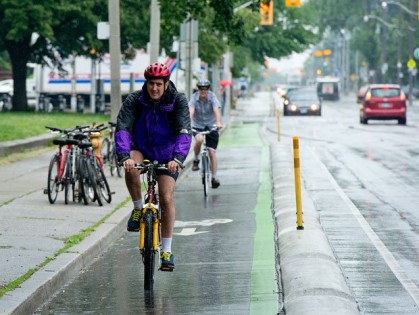 A curb-protected bike lane
proposed for Walker
Road
would serve Nike's campus, but has
been delayed until 2019.
(Image: Washington County, modified by BikePortland)
Nike is planning to spend millions of dollars to build parking garages for 2,500 cars on its growing Washington County campus, but it's not yet clear whether the sportswear giant will also be backing investments that would help its employees bike to work.
Today, 3 percent of Nike's more than 8,000 payroll and contract workers typically walk or bike for their commute, according to a transportation plan covered last week by The Oregonian. Another 6 percent ride the bus or MAX, 1 percent telecommute, 12 percent carpool and 78 percent drive alone.