Wednesday, February 19th, 2014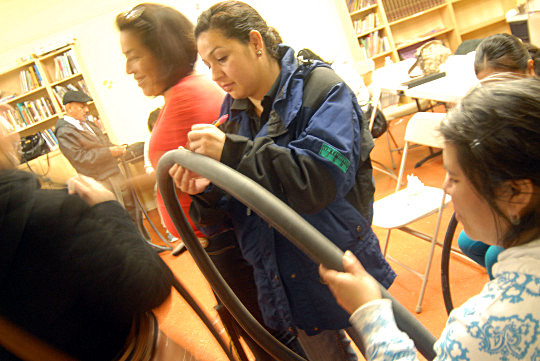 Veronica Rodriguez notes the location of a tube leak at the ABC bike club meetup Tuesday.
(Photos by M.Andersen/BikePortland)
Para leer esta historia en español, traducio por Google, haga clic aquí.
Three years after Portland's Community Cycling Center teamed up with the low-income Northeast Portland housing development Hacienda CDC to learn about the barriers to bike use in that community, some of those walls are falling down.
We've been hearing for months about the Cully neighborhood's new bike club, Andando en Bicicletas en Cully, a mostly Spanish-speaking group from in and around the Hacienda development who ride bikes together and have been organizing to improve biking in their area. On Tuesday, I headed up to check out one of their events.