Contact
Joseph Broach --
email
Background
[By BikePortland.org's Jonathan Maus]
In January of 2006, an article appeared on BikePortland.org
about a new close calls map
being developed in Portland. A few months later, I received an email from a guy named Joe Broach. Joe was working on his Ph.D. in Transportation at Portland State University's Center for Urban Studies. He wanted to know if anything ever came of that map. When I said no, he decided to do it himself. Inspired to find a way to present a more complete picture of bicycle crash data and danger spots, Joe taught himself the basics of working with Google Maps and the rest is history. Joe's focus and dedication to B-SMART was driven by a desire to make our roads safer for those of us who choose to bike. We decided it would be best to host this tool on BikePortland.org in order to leverage the site's traffic and to expand on the already well-known "Close Calls" post. In August of 2005, I posted,
Wanted: Your close calls
and it was an immediate success. In the three years since, nearly 700 people have logged their close calls and the post has provided valuable data and insights to the community. Joe and I are both firm believers that when technology combines with community, anything is possible.
-- Jonathan Maus, Editor and Founder of BikePortland.org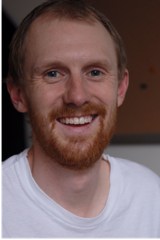 Joe Broach
(PhotoJ. Maus)