Posted on January 17th, 2007 at 7:44 am.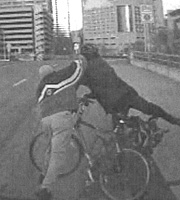 The punch that started it all.
It's been one year since the news broke of Randy Albright's lawsuit against TriMet.
The story sparked a heated local dialogue, garnered national media attention and had a major impact on this site and the Portland bike community.
At the time, it was by far the biggest story I had ever covered. When it finally hit the front page of the Oregonian and the video from the on-board cameras ran on the local TV stations, it seemed the entire city was talking about it…and some very hateful words were flying between cyclists and motorists.

[more…]