Posted by Michael Andersen (News Editor) on May 7th, 2014 at 2:15 pm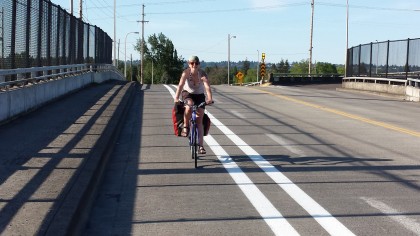 Northeast Portland resident Erinne
Goodell enjoys the new lane.
(Photo:
Kirk Paulsen
)
A new pair of buffered bike lanes across Lombard Street in Northeast Portland will improve both work and fun trips to the Columbia River area this summer.
The crossing will uses the bridge at 33rd Avenue to link the river and slough, as well as nearby port, airport and retail land, to the rest of the city. It also bears traffic on 33rd across a series of railroad tracks just north of Lombard.
Email This Post