Posted by Michael Andersen (News Editor) on March 26th, 2014 at 9:33 am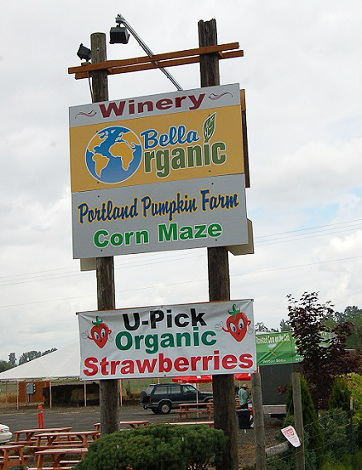 (Photo courtesy Bella Organic)
Sauvie Island farm Bella Organic has started a program it says aims to reduce miles driven in the rural area northwest of Portland: it's offering free auto parking to anyone driving to the island for a recreational bike ride. The owner of the company is also encouraging anyone who rides a bike on the island to use their parking lot and farm store as a rest stop.
"We've had lots of customers tell us, 'We wish there was more parking out here and it were more accessible,'" farm owner Sofia Kondilis-Hashem said Tuesday.
The island already has a small, free lot near the Sauvie Island Bridge that Kondilis-Hashem said is sometimes targeted by car prowlers. Bella Organic, meanwhile, has room for 100 cars to serve its u-pick berry and pumpkin farm and produce store about 1.5 miles from the bridge. Kondilis-Hashem said it only ever fills up on a few October weekends, and the farm wants to put the space to better use.
"The parking other than that is way down in the back of the island and it's kind of scary," Kondilis-Hashem said. "It's not exactly easy for people to get to."
Email This Post