Posted by Michael Andersen (News Editor) on February 20th, 2014 at 9:23 am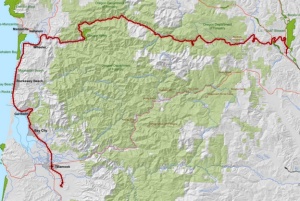 The Salmonberry Corridor would connect Banks
to Tillamook on the Oregon Coast.
(Map by Oregon State Parks & Rec)
A bill to begin planning the Salmonberry Corridor — an 86-mile rails-to-trail project that would link Washington County's Banks-Vernonia corridor to the Pacific Ocean — seems to be coasting through the state Senate, The Oregonian reports.
It's backed by one of the body's most influential members, centrist Democrat Betsy Johnson of Scappoose, who happens to be an occasional hiker and horse lover and says the path "could be a national, if not an international, draw" of tourism through her district.
As we've written over the last few months, some nature advocates see the path as a way to link both metro area and coast to each other and to some of the most beautiful country in the Coast Range. Some skeptics, however, warn that the rains that wiped out a railroad could easily wipe out a path, and others worry that a stream of people through the forest could lead to vandalism or eventually erode their right to hunt there.
But legislators seem to think the proposal is worth spending staff time on, even though there's no plan to find the money yet.
Email This Post