Posted by Michael Andersen (News Editor) on December 16th, 2013 at 9:03 am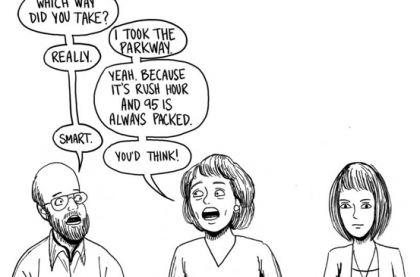 Welcome to the week. Here are the best bike and transportation stories we came across last week…
The banality of traffic: "As far as I'm concerned, the only thing worse than spending hours of your life stuck in car traffic is spending even more hours of your life talking about it," writes Bikeyface's Bekka Wright, introducing a comic that rings true.
Child activists: You haven't seen a street demonstration until you've seen a street demonstration performed almost entirely by children under the age of 12. The year was 1972, the kids were Dutch, and the 8-year-old with the microphone was chanting "cars go away." It worked. (Tip: skip to 7:10 in the video.) (Update: MSNBC's Rachel Maddow highlighted this video in a piece about gun reform on Friday)
Too rich to blame: A 16-year-old Texas boy who was driving his dad's pickup at twice the speed limit and triple the legal blood alcohol limit and killed four people (two of whom had stopped on the roadside to help fix a vehicle) will get 10 years' probation. "A psychologist for the defense said the teen suffered from 'affluenza,' a condition where a person feels shielded from problems by money, having led a life of privilege paid for by his parents."
Specialized backpedals: After widespread anger, bike manufacturing giant Specialized struck a deal to let a small Canadian bike shop keep using the word "Roubaix," a region in France whose name Specialized claimed to be an off-limits trademark. Here's the founder's letter of explanation and apology.
Armstrong post-Oprah: "The Gulfstream is gone," the former racing champion sighs in a new interview. "I'm on JetBlue and United. So I spend a lot of time on airplanes with other people and in terminals or just traveling around and going to restaurants or whatever."
Bike polarization: "The bicycle is emerging as a new conservative front in the culture wars," argues a persuasive and foreboding trend piece in the Boston Globe.
Traffic laws work: A multi-state comparison of traffic death trends has found that — surprise! — harsh penalties for intoxicated or distracted driving, restrictions on young drivers and seatbelt laws substantially reduce fatalities.
Less effective helmets: Bike helmets tend to reduce the severity of head, face and neck injuries by people on bikes, but apparently less than they used to, a new survey has concluded.
Brakeless bike ban: Bicycles without brakes are now banned from trails and bike paths in Ventura County, California.
Mandatory reflectors: In England and Wales, new rules would require every bicycle, even those with lights, to have a rear reflector and two on each pedal. Also, police would get more power to fine bikers who break rules of all sorts.
Email This Post