Posted by Michael Andersen (News Editor) on October 6th, 2013 at 6:07 pm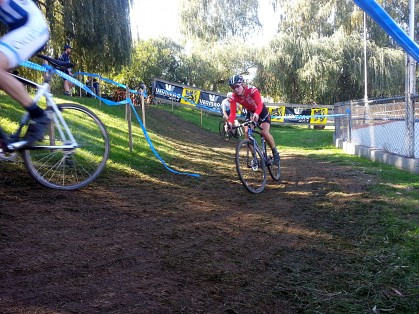 It took all most of the day for a grassy section
to wear down to mud.
(Photos: M.Andersen/BikePortland)
One of the country's biggest amateur bike races drew an estimated 1400 participants to the former dairyfields of Southwest Portland Sunday as the Cross Crusade season kicked open.
"If you ride 'cross, the one you have to go to every year is Crusade," said Dan Evan, 27, a process engineer from Southeast Portland leaning, shirtless, over the finish line at the Alpenrose Velodrome. "It's like the big reunion. Every year, everybody comes to Alpenrose."
Evan said he'd been inspired to start racing cyclocross in 2009 after seeing "some rad videos on the Internet" and competed in 12 or 13 events last year.
Jobe Franck of Portland, 48, said she'd come to the event with her young sons because the 10-year-old female classmate of one of them was competing in the youth cross event, as was the girl's father.
"We moved here from Wisconsin, so we are learning about all things Portland," Franck said. "And apparently this is very Portland."
With no rain in sight and a high of 67, Sunday's weather drew praise from spectators and racers alike. David Hart, working the registration desk midafternoon, said more than 1,000 had registered so far and guessed it'd reach 1,400 would by the day's end.
"People say that they like riding in the rain," Cross Crusade promoter Brad Ross joked Sunday. "Maybe once they're out here they do."

The Alpenrose Velodrome Sunday.
Jen Pereau, 34, of Portland, said she'd been racing all month and definitely preferred Sunday's weather. "Last week I rolled right to the car," she said with a guilty laugh.
Email This Post