Posted by Michael Andersen (News Editor) on July 5th, 2013 at 10:36 am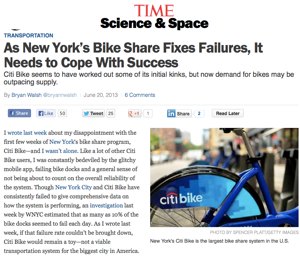 What a difference a few weeks makes.
Five weeks in, New York City's new bike share system seems to be doing just fine.
Initially plagued with problems (and negative headlines), Citi Bike's main issue these days is keeping up with demand for the popular new mode of transit.
"After two weeks of using the program pretty much every day to get from Grand Central to the office in the morning (a block from Penn Station) and back in the evening, plus a few other trips here and there, I can't say how much I love this program," a man named Mike Cordelli wrote on Citi Bike's Facebook page Wednesday afternoon.
As we (and many other news outlets) wrote last month, Citi Bike, managed by Portland-based Alta Bicycle Share, had serious problems as it was getting off the ground. An estimated one in 10 docks were failing to accept or release bikes. Membership keys were delayed. Customer service lines were clogged.
Fast forward a few weeks: Citi Bike's 100,000 annual, weekly and and daily members are logging 150,000 trips a week. And those trips, many of which don't involve helmets, seem to be 2.5 times safer than the average New York City bicycle trip, Streetsblog NYC estimated Wednesday.
Software failure rates, meanwhile, have declined from 10 percent to 2.5 percent, WNYC reported last month: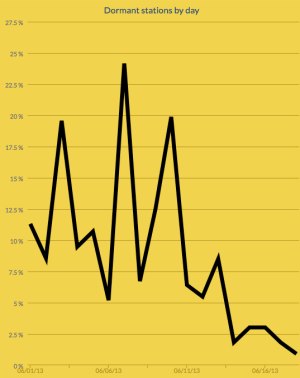 Email This Post