Posted by Jonathan Maus (Publisher/Editor) on May 10th, 2013 at 4:34 pm
We've got another weekend full of great bike events here in the Portland area. As you plan things out, peruse some of my selections below...
Saturday, May 11th
Sharrows to Sparrows Southeast - 9:00 am
This ride is all about accessing natural areas via Portland's vaunted neighborhood greenway system. You'll be led by the two people who made both of those things happen: Greg Raisman of PBOT and Mike Houck of the Urban Greenspaces Institute. The route will cover Oaks Bottom Wildlife Refuge (which Houck was the lead advocate for), Johnson Creek, and the Sellwood neighborhood. There will also be guest speakers. Bring binoculars! Meet at the Vera Katz Statue on the Eastbank Esplanade. (I did the North Portland version of this ride, see my photo gallery here.)
(More info)
National Train Day Bike Ride - 11:30 am
If you like trains, bikes, and Portland history, you'll love this 15 mile ride. Join urban historian and seasoned bike ride leader Shawn Granton and Dan Haneckow of Cafe Unknown at Union Station in Portland and head north into Vancouver, with stops along the way.
(More info)
Oregon Cycling Challenge
Put on by the folks behind the legendary Race Across America, this event has something for all types of riders. There are three non-competitive rides of 30, 60, and 120 miles; two endurance races of 200 and 400 miles; and a 120 "gran fondo" group ride. There will also be a big expo and party at the starting area in Hillsboro.
(More info)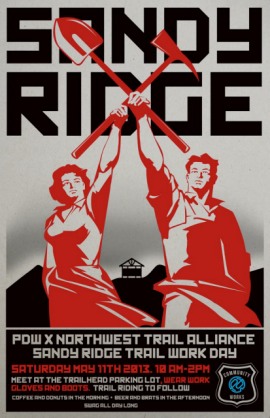 Sandy Ridge Trail Maintenance Day with Portland Design Works - 10:00 am
This is going to be epic. The great folks at Portland Design Works are hosting a season finale trail maintenance day out at Sandy Ridge. After free coffee and donuts, work parties will split up to buff out the awesome trails, and then everyone will return to the trailhead for beer and brats in the afternoon. Bring work gloves and wear boots!
(More info)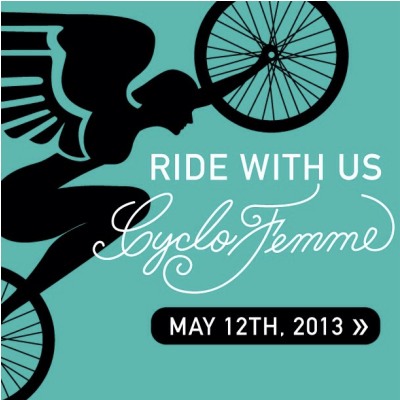 Sunday, May 12th
Cyclofemme - 9:00 am and 10: am (two start points)
This is a global ride — intentionally scheduled on Mother's Day — that's intended to help "create a unified voice for women in cycling" by encouraging and empowering more of them to ride. The co-founder of Cyclofemme, Sarai Snyder, will be in Portland for the ride. You can meet her and talk over coffee and donuts while getting a temporary tattoo of the awesome Cyclofemme logo starting at 9:00 am from the Rapha headquarters at 1915 NW Kearney Street. They'll roll out at 9:30 and pick up another group from Clever Cycles (SE Hawthorne and 9th) at 10:00 am. The ride will head out to the Sunday Parkways loop in southeast Portland.
(More info)
Sunday Parkways East Portland - 11:00 am~4:00 pm
The first Sunday Parkways of the year! Enjoy six hours of riding and community bliss thanks to a carfree, seven-mile loop in east Portland that includes two miles on the Springwater Corridor and tons of great activities, food, music and more at Glenwood, Bloomington, Lents, and Ed Benedict Parks.
(More info here)
Banana Belt Race Race #2
It's the second of three races in the Banana Belt series. Join fellow racers for a scenic, 11-mile loop around Hagg Lake.
(More info)
What are your weekend plans? Share more events and ride suggestions in the comments.
Email This Post
Possibly related posts