Posted by Jonathan Maus (Publisher/Editor) on April 12th, 2013 at 3:22 pm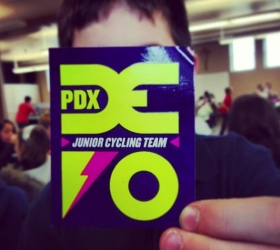 The PDX Devo Junior Cycling Team isn't even one year old; but it's already showing very promising signs of life. While its overarching goal is to find and develop tomorrow's racing superstars, PDX Devo's more immediate mission to "create lifelong cyclists and good citizens through competitive cycling."
PDX Devo was founded as a nonprofit last spring by Portlanders Russell Cree and Brian Gerow, two men with deep connections to the local bike industry and racing scene. "I started racing bikes in high school and it's given me so much in life," says Cree, who's now 37, still racing, and is the owner of Upper Echelon Fitness in northwest Portland. "It's a lifestyle and culture that in incredible. It has literally been the driving force in my life from my teenage years to now."
For Executive Director Brian Engelhard, PDX Devo is a chance to give back. "A junior program like this one helped me get into racing when I started. I felt it was a great way for me to be part of a program that could help other kids have fun on bikes and be the first of its kind in Portland."
Here are a few photos of PDX Devo in action...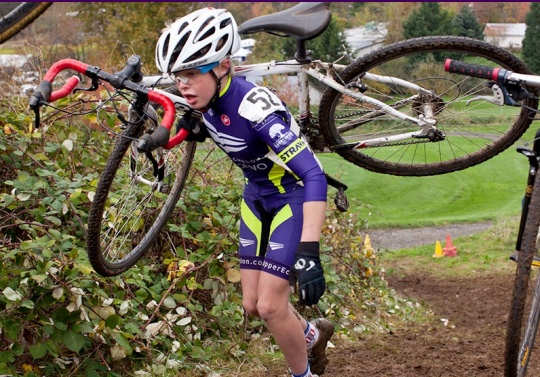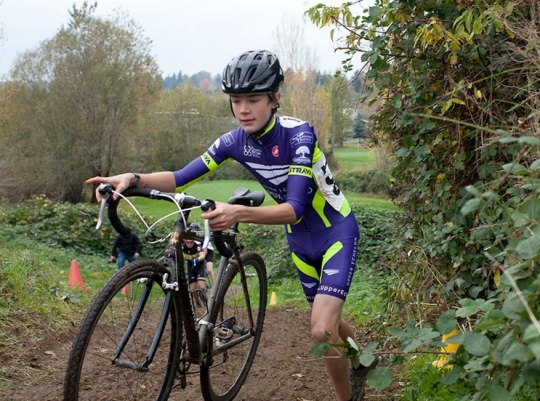 A spring break ride to Multnomah Falls.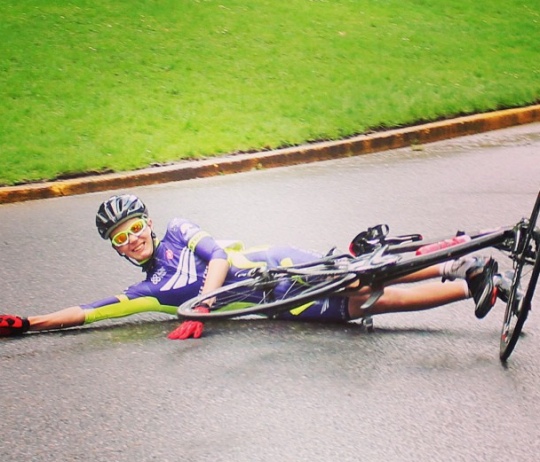 A good lesson learned I'm sure... And he's taking it in stride!
Spinning around the Rose Garden Circuit Race loop in Washington Park.
(All photos PDX Devo)
Anyone can sign up for PDX Devo (there are no tryouts, but their is a $295 per quarter enrollment fee) and there are three age groups: the "Mini Mashers" aged 8-10; the "Sophomore Shredders" aged 11-14; and "Varsity Vainqueur" aged 15-18. The program exposes kids to all aspects of racing, training, and riding across the various disciplines including road, cyclocross, track, mountain biking, and even BMX.
An indoor training session.
Last month, PDX Devo announced the hire of Steven Beardsley as head coach (a.k.a. "director sportif"). Beardsley has an impressive racing resume that includes nine USA Cycling Elite National Championship medals, 15 Oregon Bicycle Racing Association (OBRA) State Championships, and many wins at top local events. He's also an OBRA race official and the promoter behind events like the Rose Garden Circuit Race and the Giro di Portland.
Starting next week, Beardsley will bring his troops to Portland International Raceway for the new Junior Road Race Series that will be held during the Tuesday Night PIR series.
Cree hosts the kids at Upper Echelon 2-3 times per week for training sessions where they work on strength and conditioning. While he enjoys developing talent, Cree knows that it's all about having fun. He's even taking some of them to The Lumberyard indoor mountain bike park. "The goal is to find what resonates with each kid. There's no right or wrong discipline, it's just about having fun on bikes and learning. Along the way, we hope to foster good life skills."
PDX Devo's sponsors include Castelli USA, Laurelhurst Dentistry, Trusty Switchblade, Citizen Inc, Giant Bikes/Bike 'n Hike, Tire Factory, Giro, and Gehred and Horacek Dental.
Learn more at PDXDevo.com and follow them via Facebook and Twitter @pdxdevo.
Email This Post
Possibly related posts