Posted by Jonathan Maus (Publisher/Editor) on July 31st, 2012 at 1:10 pm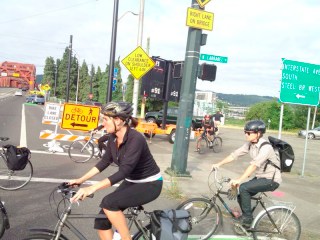 Riders headed westbound cross N Broadway
at Larrabee this morning.
(Photos © J. Maus/BikePortland)
A project by Portland Streetcar Inc. will detour bicycle traffic on the Broadway Bridge. The work to replace the non-slip coating on the sidewalks of the bridge began on Monday and will go through August 13th.
The north sidewalk is closed now and all traffic is being routed onto the south sidewalk. Next week, the project will flip sides and all bike traffic will use the north sidewalk. The Broadway Bridge is a very busy bikeway, and this project means that the relatively narrow path must accomodate people walking and biking in both directions.
During past Broadway Bridge bikeway closures, I've seen people simply take the lane on the main deck of the bridge. I wouldn't recommend that move unless you're a very experienced rider. I checked out the detour during this morning's commuter rush and snapped a few photos. It was a bit chaotic as people saw the closure and queued up to cross Larrabee, but overall, things worked pretty smoothly. Below are a few more photos of from this morning to give you and idea of what to expect...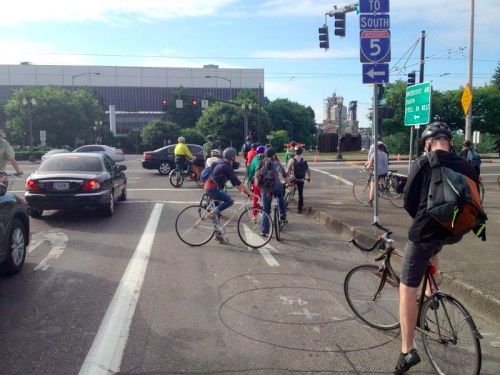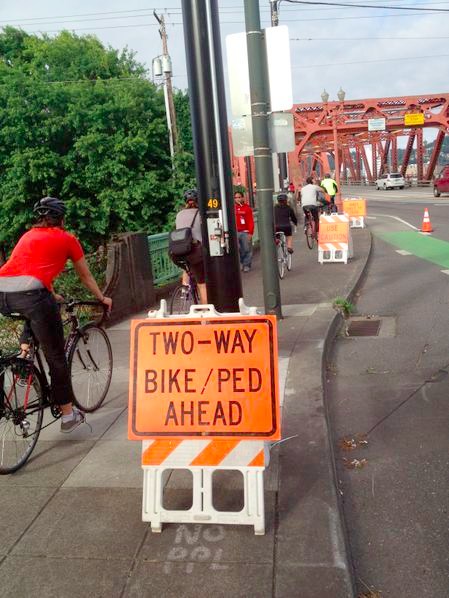 Email This Post
Possibly related posts