Posted by Jonathan Maus (Publisher/Editor) on September 8th, 2011 at 4:21 pm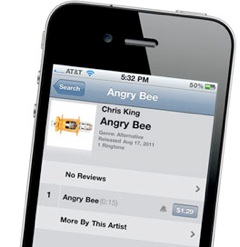 Local bike part maker Chris King Precision Components has developed a ringtone for iPhones and is giving 100% of the sale proceeds to the Northwest Trail Alliance, a non-profit off-road trail advocacy organization.
Hubs made by Chris King are known for their unique RingDrive engagement system that consists of 72 tiny, stainless steel teeth that can handle massive amounts of torque and boast instant, positive engagement when you pedal forward. Those teeth also produce a distinct buzzing sound when you freewheel.
King has recorded this "angry bee" sound and turned it into a ringtone. The ringtone is now available for $1.29 in the iTunes store (an Android version is in the works).
Email This Post
Possibly related posts