Posted by Jonathan Maus (Publisher/Editor) on May 9th, 2011 at 10:42 am
Ask anyone that's ridden their bike around a city for any length of time, and they'll tell you: One of the fringe benefits of biking is all the interesting things you come across while pedaling around. Case in point are the three things below...
The first is something sent in by reader Fred K.. Fred came across an odd sculpture the other day while biking around Northeast Portland...
(Photo: Fred King)

Upon further investigation, Fred found out the sculpture is modeled after a Star Trek Wars Imperial Cruiser and it was made for the Star Wars vs. Star Trek Ride slated for June 18th during Pedalpalooza.
The next random sighting was sent in by reader Bill M., who works out at Intel in Hillsboro. Hope you're not allergic to bees...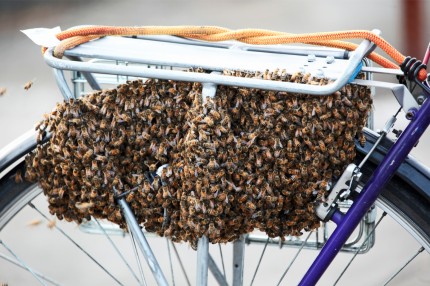 Bill spotted this bike in the racks outside his office. He thinks a queen bee might have settled on the bike and its hive used the rack as a temporary rest stop.
Our last sighting today is one of my own. I came across a provocative photo last week...
(Photo © J. Maus)
Not the tact I'd take to starting a conversation with someone that holds a different perspective than I do, but to each his own.
Do you ever see memorable things while biking around? We'd love to hear about them. Snap a photo and drop us a line and we'll share them after a few roll in.
Email This Post
Possibly related posts