Posted by Jonathan Maus (Publisher/Editor) on November 8th, 2010 at 4:37 pm
This just in from our friend @mrbowers on Twitter, PBOT has striped a new bike lane on the eastern end of the Burnside Bridge prior to the crossing of Martin Luther King Jr. Blvd (and I think further on along Burnside as well)...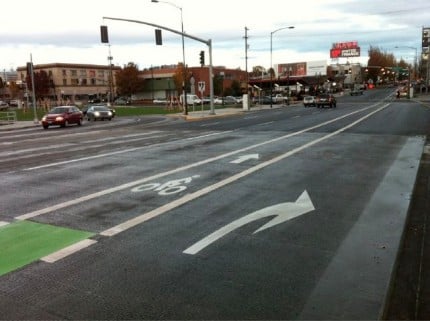 Looking east on Burnside, just west of MLK.
(Photo: @mrbowers/Twitter)
Note the caption on his photo: "FINALLY, bikes can cross MLK at Burnside and not die."
With construction from the Burnside Couch Couplet project, this area has been a mess for the past few months, so this looks to be a welcome change. I'll have to explore this more closely tomorrow, but I would assume this bike lane striping continues along Burnside. It will be interesting to see if people begin to use the new Burnside bike lane, or if they maintain the long-held tradition of heading south on MLK and then taking the first left on SE Ankeny.
Anyone use this yet? Impressions?
Email This Post
Possibly related posts