Posted by Jonathan Maus (Publisher/Editor) on September 29th, 2010 at 1:01 pm
This tri-bike from Portland-based Renovo Hardwood Bicycles is bound for the Ironman World Championships in Kona.
(Photo: Renovo)
A few interesting notes about local bike builders have piled up on my desk, so I thought I'd share them with you.
Southeast Portland-based Renovo Hardwood Bicycles is headed to Hawaii. No, Ken Wheeler and his crew are not re-locating, but they will be on the Big Island in spirit on October 9th when one of their wooden bikes (what he calls, "Mother Nature's carbon fiber") will be ridden at the Ironman World Championships in Kona by local triathlete Tim Winestorfer.
The A-Line from Sweetpea.
(Photo: Sweetpea)
Speaking of going fast, Portland's Sweetpea Bicycles' new "A-Line" bikes bring the style and fun of a step-through to women who still like to hammer on occasion. The A-Line is a production model from Sweetpea builder Natalie Ramsland that she says is all about looking good and "hauling ass" (prices start at $2,800 and wait time is just 10 weeks).
The recent Bicycling Magazine Buyer's Guide included photos and specs on 160 of the hottest new bikes available. The ran a contest that gave one lucky winner the choice of any bike in the magazine. Guess who who won? Portland-based Cielo, a bike brand developed by Chris King Precision Components. Bicycling had readers submit a video on why they should be chosen. The winner was Chris Santiago, a teacher from Chicago who chose Cielo's "Sportif" model. Read more about it on the Cielo blog. See a photo of Chris and his new bike and watch the (absolutely charming) winning video below...

Chris, his son, and his new Cielo (photo courtesy Cielo Bikes)...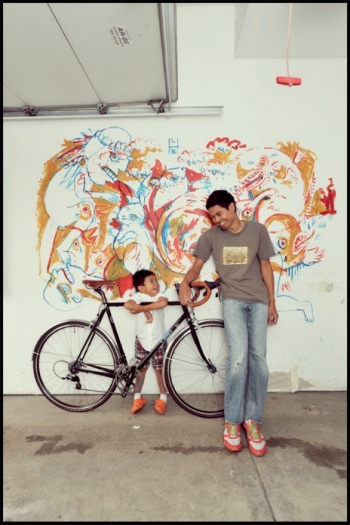 And last but certainly not least is a suggestion to mark your calendar for next weekend (October 9-10th) when the annual Oregon Handmade Bicycle Show opens its doors. This show, put together by the Oregon Bicycle Constructors Association, has been a must-see ever since its successful debut in 2007. Some of the finest bicycle artisans from Oregon and beyond are slated to show up. I'll do a preview story next week; but for now, check the event flyer...
That's it for this roundup. Isn't it great that we live in a city so full of awesome framebuilders?!
Email This Post
Possibly related posts