Posted by Jonathan Maus (Publisher/Editor) on August 24th, 2010 at 9:35 am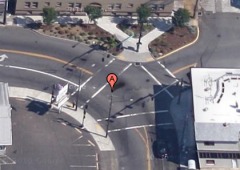 View of SE 50th and Hawthorne.
Truck was pointed west and coming
out of eastern most intersection.
There was a crash at around 7:00 am this morning at SE Hawthorne and 50th involving a woman on a bike and a garbage truck. The truck operator was headed west on Hawthorne when the collision occurred. This is the portion of Hawthorne where there's a bend in the road and most eastbound traffic is diverted south onto 50th.
The extent of the women's injuries are unknown. I'm awaiting more details from the Police Bureau Trafffic Division. Here's what KATU TV is reporting:
"The driver of the truck, which belonged to Gruettner Sanitary Service, said he he stopped at a traffic light but realized he was too far into the intersection and backed up.

When the light changed and he accelerated through the intersection, he collided with the cyclist."
KATU also has a short video which shows the crash scene:

I don't know this intersection very well, so perhaps others can chime in. I'll update this post when I hear more from the PPB.
UPDATE, 12:56: Here are more details from the PPB:
"This morning at 6:39 a.m., Portland Police Officers responded to Southeast 50th and Hawthorne Boulevard on the report of a bicyclist hit by a garbage truck. Officers arrived and contacted the bicyclist, 28-year-old Alexsandra Dorokhova of Milwaukie, who had been hit. The bicyclist was transported to O.H.S.U. with non-life threatening minor injuries. A witness described the bicyclist crossing the street against a red light as the garbage truck was turning on a green light. Traffic Division officers conducted an investigation and did not issue any citation.

The bicyclist was wearing a helmet."
UPDATE, 8/25 at 3:11 pm: Here's a more detailed description of what happened that happened, courtesy of PPB Traffic Division Sgt. Todd Davis:
"The garbage truck was eastbound on Hawthorne and had stopped for a red light at SE 50th Ave. The driver said he had stopped over the line of the crosswalk so he backed up a little to make room in the crosswalk for the bicyclist who was waiting to cross. Once the driver backed up, his light had turned green, and he started moving forward. The bicyclist was now in the crosswalk in front of his truck. He struck her at low speed [5mph] knocking her to the ground.

The bicyclist was transported to OHSU, but apparently did not have serious injuries. A witness told the officer that the bicyclist rode in front of the garbage truck against a red [DONT WALK] light. I imagine she was confused when the truck initially backed up to let her cross. No cites were issued to either party. The 28 yo cyclist was wearing a helmet."
Email This Post
Possibly related posts