Posted by Elly Blue (Columnist) on August 28th, 2009 at 4:56 pm
Looks like some sun, some rain this weekend, not necessarily in that order. Check out our guide to some of the rides and events going on -- and feel free to share your fun in the comments here.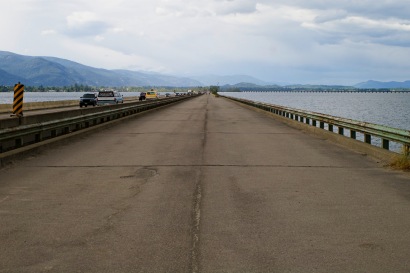 I'll leave you with this photo just sent in by former BikePortland intern Dan Liu, of the luxurious bike path on a freeway bridge in Sandpoint, Idaho during his cross-country bike trip this summer.
Dan writes:
Seeing the scary photo of the under-deck bike path reminded me of this bike path outside Sandpoint, ID, crossing the Pend Oreille. It's the old Hwy 95 bridge, almost 2 miles long, and adjacent to the newer, identically-sized Hwy 95 bridge that now carries car and truck traffic. The pavement wasn't stupendous, especially around the expansion joints, but it sure was nice riding on it!

The added bonus was that right before the bridge approach, there was a 4X20ft sign on a restaurant lounge that read, "BBQ TAKE OUT SPECIAL FREE KITTENS 265 8527.
Email This Post
Possibly related posts