Posted by Elly Blue (Columnist) on April 2nd, 2009 at 3:53 pm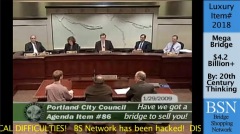 Organizers of the CRC Opposition and Alternatives Rally have just released their third spoof "Bridge Shopping Network" video. But something has gone awry — hosts Joe and Kristen's sales pitch is interrupted by anti-CRC hackers!
From the release notes:
In our third snippet from the Bridge Shopping Network things go "all-CSPAN" as the show is hacked live into the Joe Cortright's formal testimony at the Jan 29th Portland City Council meeting on the Columbia River Crossing (CRC). It's surely not what the BS Network hosts have in mind…
Watch the video below the jump (or on YouTube):
advertisement
Here are the group's first and second videos.
Email This Post