Posted by Elly Blue (Columnist) on December 9th, 2008 at 12:27 pm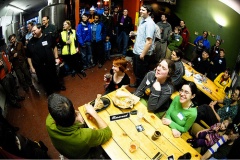 BikePortland readers gathered at Roots earlier this year
(Photo © J. Maus)
It's nearly here -- BikeCraft IV!
I hope you'll join us tomorrow, December 10th, at Roots Organic Brewing (on SE 7th just south of Hawthorne -- find us in Roots' new event space right next door to the main bar).
Doors open at 5:30 and the party goes until 11pm when Roots closes -- so if you want to have some dinner and come by a bit later, the event will still be going strong.

If you'd like to get some dinner there, Roots has a full menu in their main bar. Or for a snack, find the bake sale table in the BikeCraft hall to raise dollars for bike infrastructure.
Feel free to bring the kids, it's an all-ages event. Oh, and there will also be an ATM on-site this year...
The event space has its own bar, and will be pouring several varieties of their house-brewed, organic beer on tap, including, if we're lucky, their Chocolate Habanero Stout that is being released that day.
It's going to be a busy night -- Check out our full list of crafters and come prepared with a wish list for yourself, your family, and your friends!
advertisement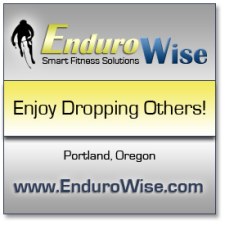 Make sure you stop by the BikePortland table right inside the door. We'll have our new t-shirt for sale -- but we only have 100 shirts in various men's and women's sizes, so get yours early!
Also at the BikePortland table, you'll be able to pick up some raffle tickets. There will be a drawing for prizes at 7pm. All proceeds will benefit BikePortland operations, and there are some cool prizes lined up.
All our raffle prizes were donated by local bike-friendly businesses, including some of this year's crafters! Some highlights include a pound of Courier Coffee, a month of unlimited yoga from Yoga in the Pearl, and free *guaranteed* entry to Filmed By Bike's popular and raucous opening night extravaganza as well as other FBB goodies.
You could also win a wool cap from Deller Designs, or a gift certificate for a custom Little Package cap; a wool IceBreaker shirt, or a special item from Queen Bee Creations.
There's more, including donations from Veloce Bicycles, Seven Corners Cycles, DryHigh Rain Chaps, and Stumptown Printers...but you'll have to be there to find out!
You'll need to be present to win (or delegate a representative). Be sure to be there at 7pm for the drawing, MC'd by John Howe of Team Beer.
It's been a tantalizing month of emails, and I can't wait to see in person what all the artists and crafters are bringing. This is the kind of event that makes me love Portland and all the creative people who make life here so non-stop interesting.
Email This Post
Possibly related posts