Posted by Jonathan Maus (Publisher/Editor) on December 8th, 2008 at 9:53 am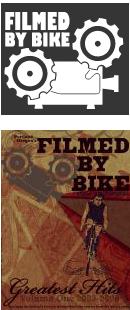 Filmed by Bike logo and new
poster/DVD art.
Bike culture maven Ayleen Crotty is gearing up for her seventh annual Filmed by Bike festival and she just sent word that this year's trailer is now available online (watch it below).
The homegrown bike film fest begin humbly in 2003 and since then, it has grown to a mega-event that has nurtured an international pool of bike-loving auteurs and regularly sells out multiple screenings.
For 2009, Crotty has enlisted New Hampshire-based filmmaker Lynn Robinson of BLACK CAP Studio to create a trailer for the event. The trailer debuted at a party held during the Oregon Manifest show (at Wieden + Kennedy) back in October.

advertisement
Check it out:

One of Robinson's films, DIY: Emancipation 101 was shown at the 2008 Filmed by Bike and Crotty says Robinson became "one of the fest's biggest fans."
"Lynn's got this crazy-cool collage style that's raw and energetic -- it's perfect for Filmed by Bike!" says Crotty.
Crotty also sees the '09 trailer as representative of Filmed by Bike's national and global reach. The fest has screened films from all over the globe including Sweden and Los Angeles.
This year's Filmed by Bike is slated for April 17-23 at Clinton St. Theater in SE Portland. Stay tuned for more fest news. You can also meet Ayleen and purchase the newly designed event poster and DVD (along with other cool stuff Ayleen makes) at BikeCraft this Wednesday.
-- Learn more about Filmed by Bike and sign up for the event newsletter at FilmedbyBike.org.
Email This Post
Possibly related posts