Posted by Jonathan Maus (Publisher/Editor) on May 30th, 2008 at 3:49 pm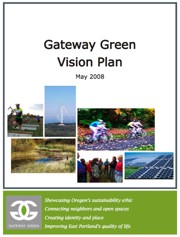 Gateway Green is an ambitious project to reclaim 35 acres of unused land at the intersections of I-84 and I-205 in East Portland.
Last week I shared a preview of the project after I had a sneak peek at the Vision Plan -- a 27-page document that lays out the design, funding, and other aspects of the project.
A key component of the project is to incorporate bicycle trails both for recreational (mostly unpaved) and transportation-oriented uses (it would be a pass-through for commuters connecting to I-205 path and future Sullivan's Gulch Trail).
Now the Vision Plan is available online on the website of the Portland Development Commission.
Once you download it, turn to page 11. In the chapter on "Design", the first heading under "The Plan" is "Bicycling". What follows are paragraphs on "Bicycle Commuting";
"Gateway Green provides a critical link in the bicycle commute network..."
"Mountain Biking";
"Single track mountain biking areas are proposed for the existing woodland area... in addition, a figure-8 bicycle pathway...would provide biking loop and connection to Rocky Butte, where additional mountain biking trails could be developed."
"Cyclocross";
"Cyclocross courses would be set up temporarily on the site, and would use the mountain bike and free-riding trails that already exist..."
and "Free-riding";
"The southern portion of the site has hilly terrain and is well-suited for this type of bicycle recreation."
Email This Post
Possibly related posts