Posted by Jonathan Maus (Publisher/Editor) on July 11th, 2007 at 5:28 pm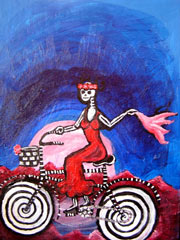 "Mourning ride" by
Margaret Beeson
For many people, bicycles are far more than a tool for transport and recreation; they're an inspiration for art.
Here in Portland we're fortunate to have a rich culture full of examples. Last July I put together an art exhibition at City Hall that featured bike-themed paintings, photos, sculptures, and craft.
Two upcoming shows will keep the tradition of blending bikes and art alive and well in Portland.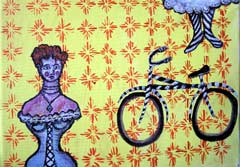 "Stolen bike" by
Margaret Beeson
Artist Margaret Beeson works in various mediums and likes to "embrace silliness, immaturity, and laughter," in her work. She has produced a series of paintings inspired by Portland's bike culture.
She will open her "Moved by bikes" show at Chance of Rain Cafe (1522 SE 32nd Ave) this Friday from 6-9 pm.
Later this month at Last Thursday on Alberta, Mychal Tetteh will "celebrate creativity and attention to detail" at the first-ever Cloud City Bike Expo.
Color coordinated
track bike.
(Photo: Mychal Tetteh)

A vintage singlespeed.
(Photo: Mychal Tetteh)
Tetteh plans to display "the hottest" custom and "uncompromisingly vintage" bikes around. He's still got a few spots open for you to join the exhibition. If you'd like to show your bike, email him photos at championstripes(at)gmail(dot)com.
The Cloud City Bike Expo will happen on Thursday, July 26th from 6-9 pm at 2223 NE Alberta Street.
Email This Post
Possibly related posts